Banding, Bagging, Label and Data Verification
On Show
Jenton International
will be showing a wide range of
packaging and processing
equipment for the food,
pharmaceutical, beverage,
medical device and cosmetics
industries at the PPMA Total
Show.
The company will be highlighting
its well proven
Jenton Bandit table-top
heatsealing banding machines
with the latest large arch systems
on display along with samples of
products banded with printed
materials. Jenton Ariana will be
showcasing its convergers,
suitable for thermoformedand
other conveyorised packs,
inline seal testers for MAP/CAP
packs and trays, pad placing
systems and also stackers for
multipacks.
Meanwhile, the JenAct GRU-V
and UV-Torpedo sanitisation
systems for reducing air and
surface pathogens in a food
production environment and
Jenton Dimaco's on and offline
label and data verification
systems will be featured on its
stand. In response to demand

f

or
packaging weight to be reduced
while maintaining shelf life and
performance,Jenton Packaging
Emplex' continuousus bag and
pouch sealer with vacuum and
gas flush will also be included for
the first time.Emplex continuous
band sealers offer speed, seal
integrity and versatility.
Suitable for both hand-fed and
conveyorised products and developed for
the medical industry, Emplex band sealers
provide fast, precise and strong seals. The
Emplex MPS 7103 and 7503 heavy duty,
high speed vacuum band sealers are
equipped with a vacuum and or nitrogen
gas flush system.
Machinery Update
Sept 2019
Both machines create high quality,
moisture proof, oxygen free packages and
are ideal for customers who require more
than five bags a minute.
Jenton Dimaco manufactures on and off-
line label verification which can be
combined with checkweighing and real time
data verification to establish a link in the
traceability chain. The machine vision
systems are especially suited to fresh food
items with a short shelf life and verifyboth
the packaging as well as well as the
labelling. PPMA Total will see the launch of
a new vision/weigh/metal detector combo
with minimum line length.
Jenton Ariana's convergers are simple and
easy to clean, operate and maintain and
have independent adjustable working and
infeed height,quick change belts and long
life clutches.
The JenAct GRU-V is a wall mounted UV
air purifier which is specially designed
to kill 99.99% of airborne micro-organisms
and viruses preventing contamination
caused by untreated airflow. The system
produces no harmful particles, no odours
and no harmful chemicals. It is made from
high grade materials with shatter proof
bulbs and is ideal for food production
environments.
The UV Torpedo conveyors are used to
disinfect food items on a line in advance of
packaging. STAND A50












Jenton's range of Bandit banding machines has a
new member – the Bandit 300 benchtop paper banding
unit. In line with an increasing requirement to
reduce the use of plastics, the new Jenton
Bandit 300 is capable of handling 40-60
micron plastic film which is half the thickness
of film used by other banding machines.
For added flexibility, the compact Jenton
Bandit 300 also offers paper and printed
banding. It handles product up to 300mm with
operating speeds up to 25 cycles per minute.
The Jenton Bandit 300 is ideal for daily
delivered postal items such as lunch packs,
retail tamper evidence, greetings cards and
multipacks. In addition, clear plastic film can be
used for more innovative banding applications
such as t-shirts, tea towels and padded envelopes.
When used with paper, the Jenton Bandit 300 can wrap
airline meals, cutlery, shelf stacking and vending machine
loading.

JENTON LAUNCHES BANDIT® 300
HEAT SEAL BANDING MACHINE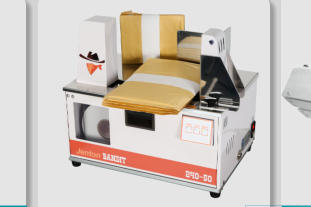 JENTON INTERNATIONAL HAS IT IN THE BAG WITH
CUSTOM-DESIGNED EMPLEX VACUUM BAND SEALER
Latest Emplex MPS 7503 high speed, heavy duty band sealer features
bespoke frame, conveyor transport system and EU compliant guarding
Leading specialist in high performance packaging equipment for the food,
medical, beverage, chemical and pharmaceutical industries, Jenton
International Ltd – part of The Jenton Group (www.jenton.co.uk) – has
introduced an Emplex MPS 7503 heavy duty, high speed vacuum band sealer
with custom designed frame, conveyor transport system and EU compliant
guarding.
Further underlining its
commitment to reducing
packaging weight whilst
increasing shelf life and
performance, development of
the new Emplex MPS 7503
follows the extension of
Jenton's distributor agreement
for Emplex bag and pouch
sealing equipment with Canada-
based flexible packaging
specialist PlexPack to cover
Benelux as well as the UK.
Jenton used its proven
knowledge of the medical and
food industries and expertise in
the production of food grade
packaging automation
equipment combined with
PlexPack's high performance
bag sealing technology to design the bespoke Emplex MPS 7503 system.
Ideal for secure vacuum bagging of chemicals as well as food products such
as coffee and snack foods, the Jenton Emplex MPS 7503 is a heavy duty, high
speed vacuum band sealer equipped with vacuum and / or nitrogen gas flush
system.
The machine creates high quality, moisture proof, oxygen free packages and is
capable of operating at speeds up to 20 bags

per minute.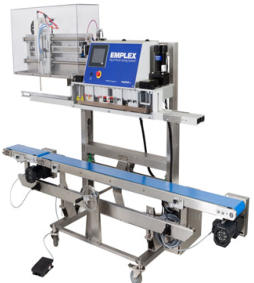 Conveying Food with Top Hygiene
JenAct– part of the Jenton
Group – has launched a new
food treatment conveyor for
cost effective sterilisation,
neutralisation and disinfection of
microbiological contamination
on food products. The hygienic,
fully washdown system has
been designed to help prevent
spoilage, allow longer shelf
life and reduce waste in line
with retailer and government
requirements.
NO SHADOWING IN USE
The new UV disinfection conveyor
uses UV tunnels to achieve
360 degrees of UVC irradiation
while a built in, custom-designed
reflector maximises UVC output.
JenAct's proprietary system
moves the product on the wire belt
to ensure the whole product
is treated and shadowing does
not occur in the process.
"It has long been recognised
that the surface contamination
of some food products such as
fish with listeria monocytogenes
can significantly reduce shelf life,"
says Dr Jarek Bilek from JenAct.
"UV germicidal radiation greatly
reduces spoilage micro-organisms
on salmon fillets, for example,
and provides a significant
extension of shelf life.
"Plus, UV treatment does not
require water or chemicals, which
ultimately leads to cost savings,"
he says. "Most importantly,
the appearance and taste of food
products is unaffected," he tells
JenAct's new IP65 rated wire
belt UV disinfection conveyor is
produced from stainless steel and
has integrated disinfection zones
for food products such as salmon
fillets or fruit to pass through.
Incorporating JenAct's UV
Torpedo technology, the unit's
shatterproof UVC lamp fixtures
are mounted above and below
the actual belt.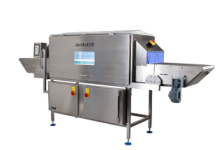 Capability in Packaging, UV,
Converting


JENTON GRANTED PATENT FOR COST
EFFECTIVE VALVE BAG
Jenton International's 20th patent eliminates the need for expensive folding
equipment or modification of an existing pouch-making production line.
Further underlining its position at the forefront of packaging innovation,
Jenton International Ltd (www.jenton.co.uk) – part of the Jenton Group – has
been granted a European patent for its method of manufacturing a new type
of Valve Bag. The heat sealed film bag has been specially designed for
packaging small items including hardware, small parts and especially foods
such as soft fruits, cherries or snacks such as nuts and raisins. Some liquids
are also possible.
Jenton's valve bag creates a 'one way valve' at
the top from the folded and sealed material of
the bag. The advantages of a valve bag include
product containment without the need for any
form of bag sealing and secure food packing
which still qualifies as 'packed open'.
Richard Little, Jenton's Managing Director says:
"Users can, for example, take a cherry from the
bag and then turn the bag upside down and
none of the others fill fall out."
The patent primarily relates to how Jenton's
innovative low density polyethylene (LDPE)
Valve Bag can be manufactured to very small
sizes on side-weld or pouch making machines without the converter needing
to invest in expensive in-tube sealing heads or modification of an existing
production line. Normal bag machine speeds are possible.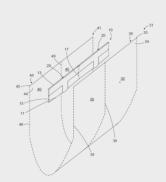 NEWS RELEASE
27 April 2020
JENTON ARIANA'S NEW HIGH SPEED PACK
TURNER CAPABLE OF INCREASING
PRODUCTION CAPACITY BY 150%
In line, fully automatic system is capable of
rotating trays for top sealing and many other
applications from narrow edge leading to long
edge leading
Leading manufacturer of high performance food
packaging automation including convergers, seal
testers and stackers,
Jenton Ariana
– part of the
Jenton Group of companies – has developed a
high speed in line pack turning system.
Designed for orientating trays used in top sealing
applications, this equipment is set to increase
production capacity by up to some 150%, allowing
more trays to fit within a single cycle of the top
sealer.
Jenton Ariana's new fully automatic pack turning
system is capable of rotating trays from narrow
edge leading to long edge leading at speeds up to
85 per minute. It can be easily adjusted for a range
of pack sizes, is fully automatic and has no change
parts. It can handle trays up to 600mm in length and a straight through option
is also available.
Driven by high performance stepper motors, the packs can be turned at the
highest possible speeds whilst still controlling the inertia and minimising
product movement within the tray. Unlike conventional friction based turners,
the new Jenton Ariana high speed pack turner provides extremely accurate 90
degree turns and also minimises the possibility of the pack reorienting itself.