JENTON NEWS
Heat seal bench top banders offer a cost
effective way to achieve tamper evidence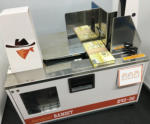 Capability in Packaging, UV, Converting












Jenton Ariana is expanding
its range of products for
food manufacturers this
year as vistors will see.
In addition to its range of
seal testers for gas flushed
thermoformed packs (typically
for bakery), the company has
developed and sold several
seal testers for ready meals
applications with random
infeed up to 140 per minute.
"We see this market growing
because of the conflicting
demands of long shelf life
delivered by barrier films
with perfect seals contrasting
with the need for easy peel,"
says Richard Little, managing
director of Jenton that
specialises in UV disinfection.
In the food
industry,applications include
the treatment of HVAC
coilsand air ducts and surface
applications such as conveyor
belts as well as the direct
treatment of food.

JenAct has ten granted patents
on this technology and can act
in a consultative role to help
advise what UV can actually
achievein any given application
before then advising whichthe
most appropriateequipment for
the job is.
Seal testing along with pack stacking and UV
Jenton has launched the Bandit range of heat seal bench
op banders which areavailable in two tape widths -30 and 50mm.
Plain or printed materialscan be used on the
units as well as products with cross sectional dimensionof up
to 240mm.These small machines are ideal for banding
individual products for labelling or security or in multiples for
promotions or shelf stacking.The units are compact, are easily
portable and they can apply bands at up to 25cycles per minute
without any need for compressed air. A simple tension adjustment
is included to suit the product being banded, along with a patented
tape guide mechanism to allow trouble free tape feeding.



Measuring the quality of chocolate
Viscosity control system offers gains for confectionery
"Monitoring the viscosity of chocolate,
rather than its temperature, optimises
the process as it gets over the problem
of heat being given off when it solidifies,"
explains Richard Little, director at
Jenton International. "This can therefore
ensure the quality of the chocolate more
accurately," he says.
Taking place at the same time as
Düsseldorf-based interpack was
Metpack, the exhibition for metal
packaging in Essen and Jenton
International was sharing a stand
with Opti-Color.
Traditionally, the J-VC viscosity
control system from Opti-Color
has been used for coatings and
inks but, it has been found to
be ideal for monitoring and
controlling the process quality
of products such as chocolate,
wax and fats.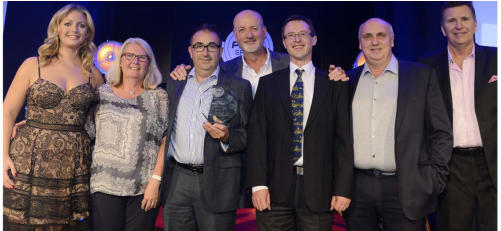 Partnership of the Year
PPMA 2017
Sponsored by Machinery Update, the winner of this category were Dimaco and Starflex
Packaging Europe for joining forces to create a new machine that is relevant to many
users. Veri-WEIGH is a system that combines multi parameter product verification from a
small footprint and was launched at the PPMA 2017 Show. Highly commended were
Tekpak & Ilapack.













Benchtop paper bander added to Bandit range

In addition to bundling, Bandit machines are
used for tamper evidence, labelling and
multipack/BOGOF applications as well.
Jenton holds a stock of these and other
larger and more automated machines,
many of which are available for hire.
As machine manufacturers,Jenton can
add value to banders with various
forms of stands, benches and other
automation.
The machines can be demonstrated at
its Whitchurch showroom for anyone
interested in the range.
Jenton's range of Bandit banding machines has a
new member – the 180-30 benchtop paper banding unit.
With a footprint approximately the size of a
sheet of A4 paper, there can be few packing /finishing
areas without space for the new Bandit unit, reckons
Jenton.
"We're pleased with this new machine" says Richard Little,
managing director of Jenton, "users will be familiar with
thearchless method of operation, thus avoiding the
possibility of paper jams in guides and runners but the
extra exibility of stable temperature and dwell control
is a significant improvement in this entry level machine".
Packs up to 180mm wide can be accommodated.
Improvements for this year include electronically
adjustable heater temperature (with display) and sealing
dwell time which allows The Bandit to be set up to be
used with a variety of paper sources and materials.
The new machines are designed to simply bundle
stacks of printed materials, cash, small cartons and
multipacks together with securely sealed paper
bands.
Paper is 30mm wide and can be supplied in brown,
white or custom printed.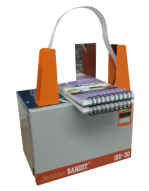 9/10 Ardglen Road,
Whitchurch, HAMPSHIRE RG28 7BB
UNITED KINGDOM
Tel:+44 (0)1256 892194
Fax:+44 (0)1256 896486
sales@jenton.co.uk



Banding, Bagging, Label and Data Verification Are On Show
Jenton International
will be showing a wide
range of packaging and
processing equipment for
the food, pharmaceutical,
beverage, medical device and
cosmetics industries at the
PPMA Total Show.
The company will be
highlighting its well proven
Jenton Bandit table-top
heatsealing banding machines
with the latest large arch
systems on display along with
samples of products banded with
printed materials. Jenton Ariana
will be showcasing its
convergers,suitable for
thermoformedand other
conveyorised packs,
inline seal testers for MAP/CAP
packs and trays, pad placing
systems and also stackers for
multipacks.
Meanwhile, the JenAct
GRU-V and UV-Torpedo
sanitisation systems for
reducing air and surface
pathogens in a food
production environment and
Jenton Dimaco's on and offline
label and data verification
systems will be featured on its
stand. In response to demand
f
or packaging weight to be reduced while
maintaining shelf life and performance,
Jenton Packaging 'Emplex'continuous
bag and pouch sealer with vacuum and
gas flush will also be included for the first
time.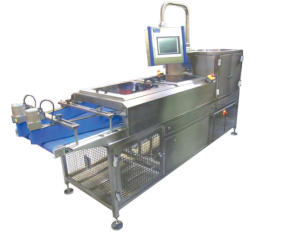 Emplex continuous band sealers
offer speed, seal integrity and
versatility. Suitable for both hand-fed
and conveyorised products and
developed for the medical industry,
Emplex band sealers provide fast,
precise and strong seals. The
Emplex MPS 7103 and 7503 heavy
duty, high speed vacuum band
sealers are equipped with a vacuum
and or nitrogen gas flush system.
a short shelf life and verify
both the packaging as well as
the labelling. PPMA Total will
see the launch of a new vision/
weigh/metal detector combo
with minimum line length.
Jenton Ariana's convergers
are simple and easy to clean,
operate and maintain and
have independent adjustable
working and infeed height,
quick change belts and long
life clutches.
The JenAct GRU-V is a wall
mounted UV air purifier
which is specially designed
to kill 99.99% of airborne
micro-organisms and viruses
preventing contamination
caused by untreated airflow.
The system produces no
harmful particles, no odours
and no harmful chemicals.
It is made from high grade
materials with shatter proof
bulbs and is ideal for food
production environments.
The UV Torpedo conveyors
are used to disinfect food
items on a line in advance of
packaging.
STAND A50
The Jenton Group Thinks Food Waste is Sustainable Key.
Dr Russell Sion from Dimaco (UK),
part of the Jenton Group.An
example of this comes
fromJenACT, a subsidiary of
Jenton Intl, that worked in
partnership with Marine Products
(Scotland) to develop a system for
extending the shelf life of salmon
fillets by exposing them to
ultraviolet light. The team came up
with a suitable UVC conveyor and
A WRAP report in 2015
determined that
by extending a 'use by'
date by just one day,
up to £600 million
could be saved each year," says
microbiological testing together
with shelf-life testing. The result
was a clear demonstration that
the shelf-life of the salmon fillets
increased from 10 to 20 days –
far more than the one day
discussed in the WRAP report.
Another area that WRAP has
investigated is the effect of leaking
packs on the waste associated with
processed food, while a further area,
and possibly even more infuriating, is
food returned to the processor because
the labelling is missing, or the labelling
is incorrect. Typical errors include
incorrect 'use-by' dates or missing
allergen information.
conducted several rounds of
Until now, all Jenton Ariana seal testers have
tested thermoformed and top sealed trays using
a proprietary online 100% pressure based
technology. In short, a defined pressure is
applied to all packs and the deformation
measured. By comparing this deformation
signature to that ofa known good pack, a
leaking packcan be detected and rejected
while still in high care, and all without
affecting line speed.
Where the technology often fails however is
spotting a pack that is currently sound, but
one that is likely to leak. That's where vision
comes in – literally to see food trapped in the
seal itself. This isespecially common where
the food is automatically loaded into the
thermoformed packs or trays and a trace of
food such as spaghetti, becomes caught in
the seal.
Although it probably will not affect the seal
ntegrity at that instant, once it starts to dry it
will shrink and the pack will be compromised.
The example of the bacteria & spores on fruit is
also an excellent example of combining
technologies. Exposure to one frequency of UV
light will render the bacteria harmless, whereas
exposure to a differing frequencyof UV light will
cause the spores to fluoresce light in the visible
spectrum which can be detected using machine
vision systems. By using machine vision in
combination with other techniques, it is possible
to create extremely robust and economic
systems to significantly reduce food waste.
Machinery Update
Sept 2019
Machinery Update
Sept 2019