Packaging and Banding (Heat Sealing)
Heat sealing of plastic films is what Jenton did first, way back in 1968. Sealing of coated plastic films in wrapping and overwrapping machines and sealing of coated and uncoated plastic films in the manufacture of plastic bags. The basic and vital balance of speed, temperature and pressure is well understood at Jenton!
In 2022 the heat sealing equipment we offer centres on bag and pouch sealing machines, banding machines, top seal tray sealing machines and sandwich/box coated card sealing machines. We also still offer continuous sealing systems for bag making lines.
---
Pouch and Bag Sealers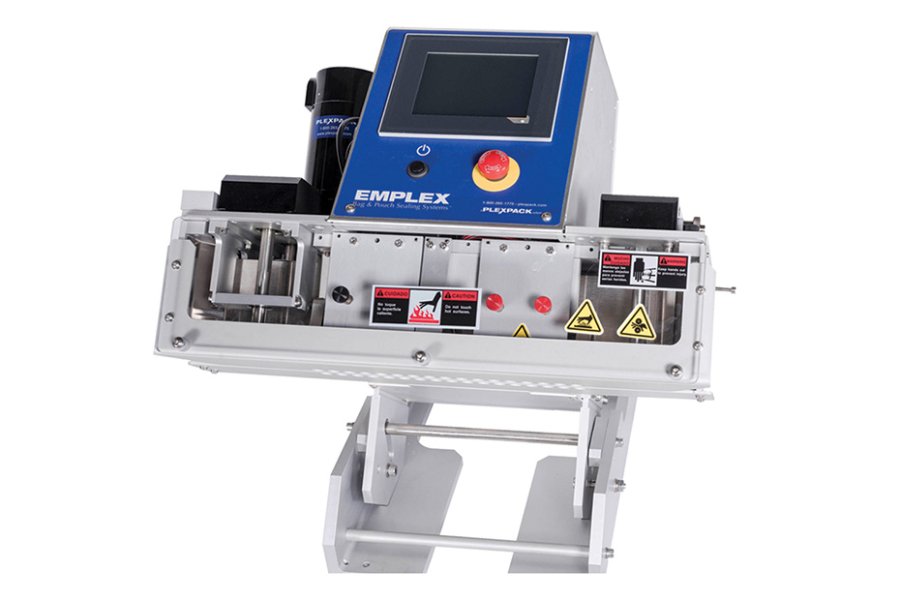 We offer the bag and pouch sealers that we supply in the UK as distributors for Emplex / Plexpack Inc (Canada) and Pronova (Sweden). We can also assist with bags and pouches for these machines, some of which we supply from our partners at Supreme Plastics in Whitby.
Emplex / Plexpack machines are generally hand fed band sealing machines that effectively double up as conveyors. They can be bench mounted, free standing or free standing with comveyors beneath for heavier products.
Bags and pouches are filled by operators and then placed into the infeed grippers of the band sealers. The sealing machines can be supplied with vacuum nozzles to extract air at this point – or even gas flush – and packs are then transported through parallel teflon belts behind which are heating elements. The speed of the transporter belts can be adjusted, as can the sealing pressure and the temperature and recipes can be stored for different products. Like Jenton's own products, Plexpack Emplex generally use B&R control solutions. The higher temperatures and pressures that are available are ideally suited for some of the new plastic free pouch materials.
Provova bag sealing systems allow a greater level of automation. Bags are pre-made in a continuous band where tubes or extruded guide material at the top link the individual bags and allow them to be fed from a prepacked box over guides / runners into a continuous band sealer. One significant element is that whilst on the guides the bag train passes via a loading section where the bags are held open for loading – either manually of from an automatic depositor of some kind (Jenton can assist with this too).
In all cases Jenton has a selection of demonstration machines at its Whitchurch HQ where customers can visit and test sealing of their own bags, pouches, materials and products.
---
Banding Machines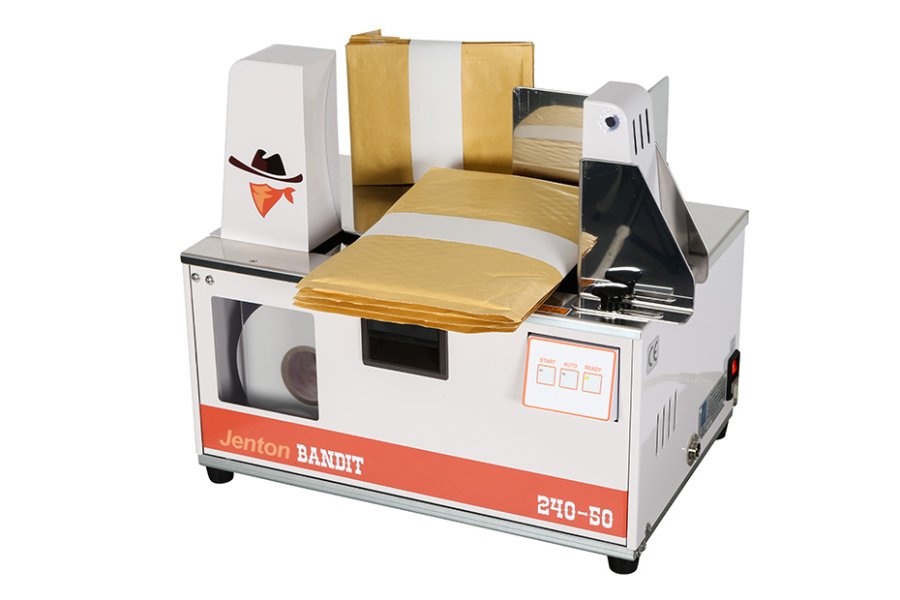 Banding machines / Banderole machines were introduced in the 1970s as a way of bundling stacks of printed products, currency and other smaller items together securely whilst using minimal packaging materials. Jenton sold the first banding machine sold in the UK. Many new applications have been 'discovered' including use of bands for labelling, creating multipacks, creating shelf-ready-packaging, tamper evidence, pack stability (ie airline meals) and promotional BOGOF type promotions. Banding is ideal for square (ish) products.
Typically the mechanism of the banding machine draws, pushes or twists a band of paper or film material around or into an 'arch' with the leading edge held by a clamp and the trailing edge 'loose' in tensioning rollers. The product or stack to be banded is placed in that arch and the operation is triggered by a photocell, footswitch or other switch. The 'arch' is collapsed by the withdrawal of the band from the 'arch' by the tensioning rollers until an appropriate pre-set tension is reached. At that point a seal bar is raised (usually heat seal, sometimes ultrasonic) which presses the leading and trailing sections of the band together and seals them together. A combined cutter separates the band so the banded pack can be removed and the system automatically reloads.
All heat seal materials consist of a base material that does not melt at heater temperature and a coating that does, become stickly and provides the adhesion to seal the band. Ultrasonic materials are uncoated (often cheaper for plastic materials) and are welded by the sealing head.
In 2022 most Jenton banding materials sold are heat seal PP coated paper (plastic coating approx. 20%) but new plastic-free materials are being trialled and offered, both for heat and ultrasonic seal.
Jenton offer own brand 'Jenton BANDIT®' heat seal machines and also offer heat and ultrasonic banding machines from ATS Tanner in Switzerland who we have worked with since the 1990s. Banding machines can be supplied for bench top operation, or on jumbo-reel trollies or with conveyorized feeds or as OEM modules for auto- integration. Jenton design and make added value accessories for banding machines and work with OEM automation partners Marden Edwards Limited (Wimborne UK).
---
Tray and Sandwich Pack Sealers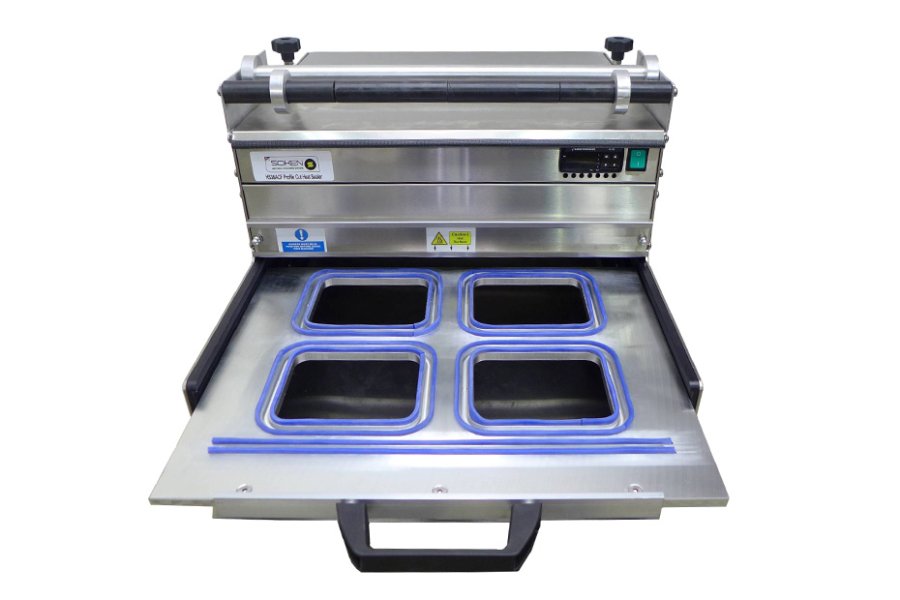 The ready-to-go, lunch-centric and smaller retail markets generated the need for Soken's range of heat sealing machines which are now well established in sandwich, wrap and salad packaging applications.
Users include smaller van based sandwich and meal providers, hospital, school and prison caterers. Soken machines can be found all around the world in airline meal providers.
Machines range from single pack bench-top units (ideal for restaurants sending meals out) to mid range drawer units packing between two and six packs at a time (ideal for caterers), to the more volume-orientated conveyor based machines. All sizes can be manufactured to accept film for lids, or to heat and press pre-coated card packs for sandwiches and wraps.