UVA (UV Curing)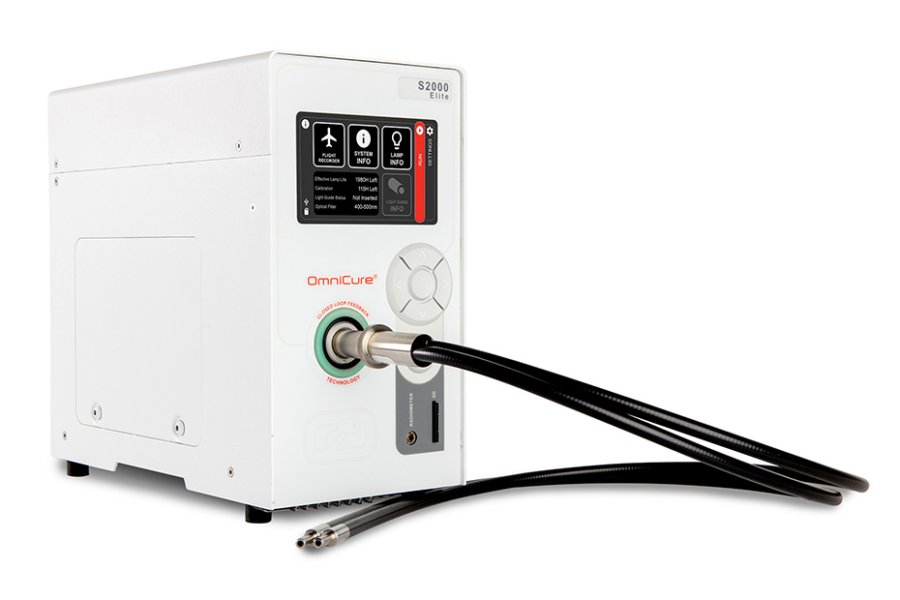 UV curing relates to the process where energy absorbed from UV light at specific wavelengths energises a catalytic polymerisation reaction that, simplistically, turns a liquid plastic into a solid one. UV materials companies mix specific monomers, oligomers and photoinitiators appropriate to application for the created polymer. This reaction can be very fast and – with the appropriate energy – can occur in seconds or milliseconds.
These liquid plastics can be inks, coatings and/or adhesives. They largely must be visible to the UV source but sometimes UV can trigger a reaction that can be completed with heat and the technology suits applications where either time or structural performance is of the essence.
UV materials applied glossy stay glossy (there is no evaporation of diluent such as solvent). A material doesn't just dry, it cross links, so coatings are much stronger and inks more resistant to solvent/rubbing etc. There is far less shrinkage on 'drying' – ideal for optical applications. The speed of UV curing can mean that expensive jigs are available for the next product far more quickly and UV is often used in automated manufacturing.
Good examples are the manufacture of optical fibres, CDs/DVDs, medical devices (syringes, stents, tube sets etc.), conformal coatings, electronic components, automotive trim, loudspeakers, and many others).
Jenton UV offers UV Spot Curing systems from our long term friends Excelitas (#1 in the world) in Canada. We also make our own medium pressure arc lamp systems – all in stainless steel and optimised for industrial applications. We design and make our own UV ovens, UV curing jigs, UV conveyors and variable power supplies. Jenton UV have systems running in many countries around the world.
---
UV LED Curing Systems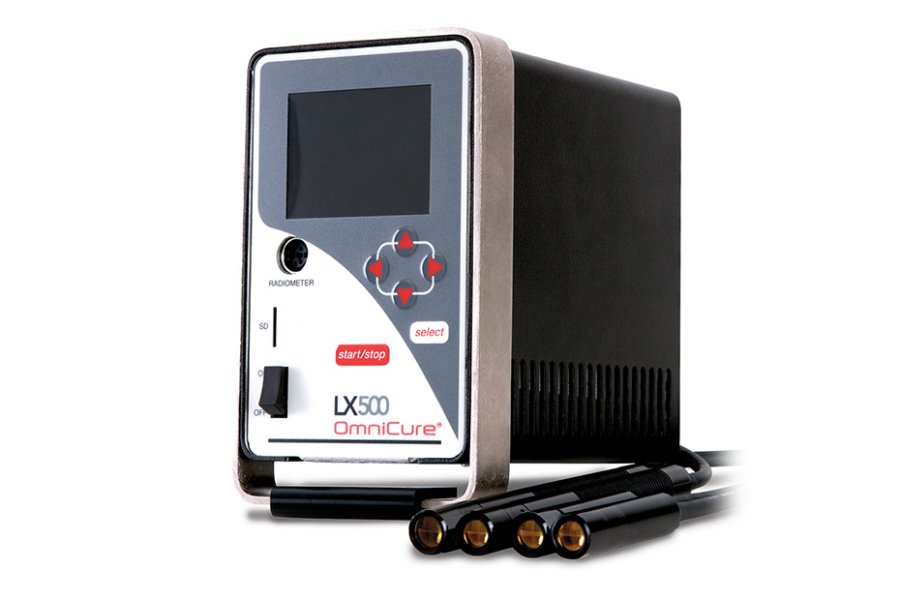 Traditional UV sources can be low or medium pressure UV bulbs (Jenton sells them all) and can be tuned with additional fill materials to give out UV spectra biased to UVA, UVB or UVC. These lamps can also give out a lot of heat (IR). UV LEDs are available in strong monochromatic sources that can be very specific (365, 385 and 395nm for example), and this allows engineers and chemists to optimise reactions. In addition UV LEDs emit very little IR and are ideal for heat sensitive materials.
Mercury based arc lamps will age as components sputter inside the lamp and output will gradually fall over a couple of thousand hours. In medical and other precision applications this needs to be compensated for. Conventional UV lamps have a warm up time and a re-strike delay time that generally means they are left on. UV LED curing systems can benefit from the fact that UV LEDs can be turned on and off at will and have a usable life probably 10x that of a conventional bulb.
The UV LED curing systems that Jenton sells include UV spot cure systems, flood cure and wide cure systems and all are compatible with Jenton UV's engineered ovens, jigs and conveyors. Jenton offers specific UV measurement and process control specific to UV LED.
---
UV Conveyors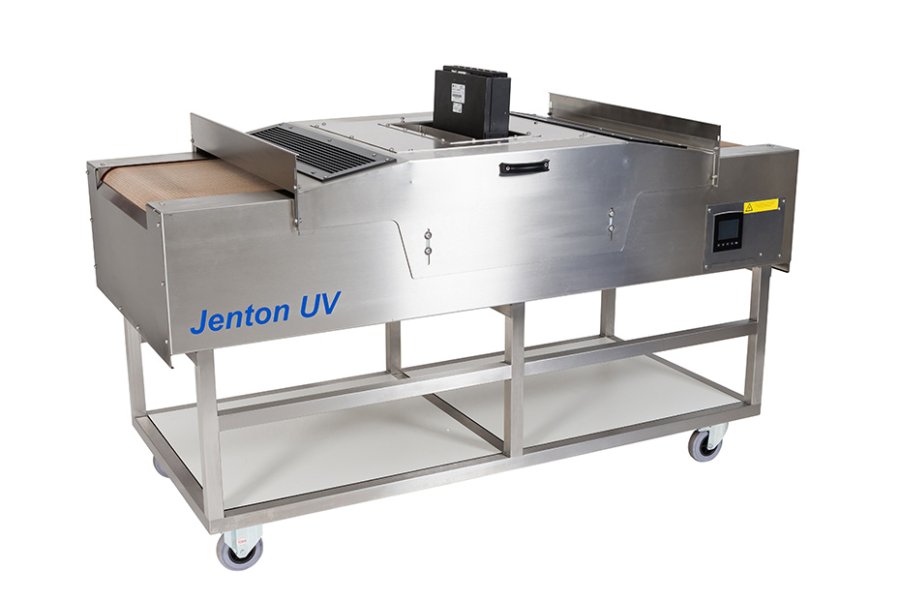 It's all very well having a good UV lamp and some great UV material but one of the most important elements of a UV curing process is optimised and consistent application of the UV to the products being cured. Jenton have made UV conveyors and ovens to address this issue for many years.
The two main application areas for UV conveyors are for 'laboratories' and in production lines.
Laboratory conveyors are often used by UV materials companies for testing and optimisation of UV curing materials and are often required to simulate speeds and lamp positions of their customer's process. Jenton UV laboratory conveyors feature variable speed belts with accurate digital speed displays, possible integration of UV measurement (we can also supply radiometers) and variable height light shields – both for lamp and housing positions. The lamp mounting plate at the top is easily changed and these can be specified to accommodate the UV curing lamps and LEDs in the Jenton range but also easily custom made to accommodate lamp heads from other supplier or which are already owned by the laboratory. Conveyors can be bench top (sometimes to fit into fume cupboards etc.) or free standing on stands. Many UV systems require exhaust systems and Jenton can supply exhaust fans. Jenton UV conveyors feature mesh belts where exhaust is collected through the belt and this can provide a vacuum hold down feature for thin samples. All our UV conveyors are made from laboratory / food standard stainless steel.
Jenton production line UV conveyors are similar but often larger. Roller or belt transport methods are used and applications vary from electronics applications such as UV conformal coatings to wood coatings on pallets. Light shields can be specified with interlocked access doors and viewing windows.
Lamp performance along the bulb's length (generally the system's width) is considered so that consistent speed x consistent UV across the direction = even exposure of all parts to the UV. All framework and guarding is designed to the highest safety standards and generally construction is from stainless steel. Automatic product feeding and 'catching' can be provided. Exhaust systems can be integrated. All systems are PLC controlled via an HMI and interlocks etc provided as necessary in the production environment. UV monitoring is possible and radiometers can be provided.
In addition to UV curing conveyors, UV ovens and custom engineering is available and Jenton, via its JenAct brand also supplies UVC disinfection conveyors and UVB vitamin enhancement conveyors.