Equipment helps food stay fresh and safe
Jenton News



Capability in Packaging, UV, Converting
On one of its two stands at the
exhibition, the Jenton Group will
show a full range of heat seal and
ultrasonic seal banding machines
from ATS in Switzerland, heat seal
stretch banders from CE (USA)
and a new range of its own brand
'TT' heat seal banding systems.
Bench top machines to full
automation options can also be
supplied by the company.
Banding can be with paper
or plastics film in widths from
20 - 60mm. Materials can be
printed or plain and optimised
for properties such as strength
or ease of opening. Applications
extend from the basic 'holding
things together' to tamper
evidence, labelling, easy shelf
loading, postal security and
other added value features.
Banding range gets own stand for first time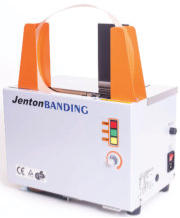 Stand A13
www.jenton.co.uk
The TT180 heat seal banding
system from Jenton
On show will be Jenton's Ariana range
of equipment for the food automation
market.The latest Ariana pack stacker
will be on working display alongside the
BCS converger range which is
designed to work with all major
rollstock thermoforming machines.
Ariana also specialises in seal testing
equipment for ready meals and other
gas flushed packs and a working test
module will allow visitors to test any
samples they bring along to the
exhibition. In addition to working
equipment, information will be available
on pad placing, diverging and pick and
place equipment from the company.
Also at the three-day event will be bag
sealing equipment from Jenton's
partners Emplex, in Canada.
Continuous bag sealers are available
for medical, food and general
packaging applications with a wide
variety of options such as vacuum, gas
flush, trim and validated seals.
Again,equipment will be working and
therefore visitors are encouraged to
bring samples along to test them out.
Jenton's subsidiary JenAct will have
uv disinfection equipment on the stand
which is suitable for surface sterilisation
of packaged or unpackaged products
as well as surface sterilisation of
packaging materials and air duct
components.
JenAct's UV Disinfection Conveyors for
disinfection of airflows in ducts or food
stores will also be on the stand.
JenAct's partner Bactest will be
demonstrating its Speedy Breedy
bacterial testing unit which allows users
to test for contamination without having
tosend samples away to laboratories.
This versatile, portable microbial
respirometer provides rapid detection of
microbial contamination.
Jenton is also showing its full range
of heat seal and ultrasonic seal banding
machines on its second stand, number
A13

Heat seal bench top banders offer cost
effective tamper evidence
Jenton Ariana is expandingii ts range
of products for food manufacturers
this year as vistors will see. In
addition to its range of seal testers
for gas flushed thermoformed packs
(typically for bakery), the company
has developed and sold several
seal testers for ready meals
applications with random infeed up to
140 per minute.
"We see this market growing because
of the conflicting demands of long shelf
life delivered by barrier films with
perfect seals contrasting with the need
for easy peel," says Richard Little,
managing director of Jenton that
specialises in UV disinfection.
In the food industry,applications
include the treatment of HVAC coils
and air ducts and surface applications
such as conveyor belts as well as the
direct treatment of food.
JenAct has ten granted patents on this
technology and can act in a
consultative role to help advise what
UV can actually achievein any given
application before then advising
whichthe most appropriateequipment
for the job is.
Seal testing with pack stacking and UV
Jenton has launched the Bandit range of heat seal
bench top banders which areavailable in two tape
widths -30 and 50mm. Plain or printed materialscan be
used on the units as well as products with cross
sectional dimensionof up to 240mm.These small
machines are ideal for banding individual products for
labelling or security or in multiples for promotions or
shelf stacking.The units are compact, are easily
portable and they can apply bands at up to 25cycles
per minute without any need for compressed air.
A simple tension adjustment is included to suit the product being banded, along
with a patented tape guide mechanism to allow trouble free tape feeding.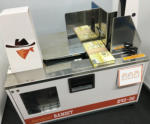 Measuring the quality of chocolate
Viscosity control system offers gains for confectionery
"Monitoring the viscosity of chocolate,
rather than its temperature, optimises
the process as it gets over the problem
of heat being given off when it solidifies,"
explains Richard Little, director at
Jenton International. "This can therefore
ensure the quality of the chocolate more
accurately," he says.
Taking place at the same time as
Düsseldorf-based interpack was
Metpack, the exhibition for metal
packaging in Essen and Jenton
International was sharing a stand
with Opti-Color.
Traditionally, the J-VC viscosity
control system from Opti-Color
has been used for coatings and
inks but, it has been found to
be ideal for monitoring and
controlling the process quality
of products such as chocolate,
wax and fats.
Partnership of the Year
PPMA 2017
Sponsored by Machinery Update, the winner of this category were Dimaco and
Starflex Packaging Europe for joining forces to create a new machine that is
relevant to many users. Veri-WEIGH is a system that combines multi parameter
product verification from a small footprint and was launched at the PPMA 2017
Show. Highly commended were Tekpak & Ilapack.